In the Kitchen with Sigona's featuring Asparagus
In the Kitchen with Sigona's featuring Asparagus
My one caution about asparagus is not to overcook it, and that's a pretty universal sentiment. Even going back to Rome, the Emperor Augustus is said to have dispatched orders "to be done in less time than it takes to cook asparagus."
Grilled Asparagus
Try grilling asparagus to concentrate the taste and add an intense smoky flavor. It's super simple.
What to do:
Toss the asparagus with Sigona's Fresh Press olive oil, salt and pepper.
Grill or roast it in a 450º oven until tender and a little bit of charring scars the tips. Keep an eye on it – it's pretty fast!
Take it out and drizzle with more olive oil, if you like, or squeeze on a little fresh lemon juice.
Optional: top grilled asparagus with creamy goat cheese for a restaurant-worthy side dish.
---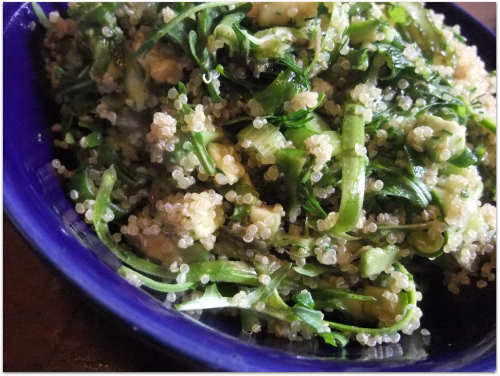 Quinoa Salad with Arugula, Asparagus and Avocado
I love how this recipe uses the flavors of spring! It's green color makes for a fresh side dish or filling lunch-size salad. Courtesy of San Fran-based food blogger Amy Sherman of Cooking with Amy. Makes 2-4 servings.
Ingredients:
1/2 cup uncooked quinoa, rinsed and drained (Look for it in our bulk section)
1 cup water
5 asparagus spears, shaved thin (use a vegetable peeler)
1 handful fresh baby arugula, roughly chopped
1 green onion, chopped
2 TBL lemon juice, fresh squeezed
2 TBL extra virgin olive oil
1/2 ripe avocado, peeled, pitted and diced
2 TBL fresh dill, chopped (optional)
Salt and freshly ground pepper
Directions: In a medium saucepan combine quinoa and water. Bring to a boil; reduce heat. Simmer, covered, about 12- 15 minutes or until liquid is completely absorbed. Meanwhile, in a mixing bowl, make the dressing by whisking together lemon juice and oil. Add avocado, shaved asparagus, green onion and arugula to the dressing.
Transfer quinoa to a medium bowl and allow to cool. Add quinoa to dressing and arugula mixture; toss with fresh dill and season with salt and pepper to taste. Serve at room temperature.
---
Savory Grilled Chicken Breasts with Farro and Asparagus
This "full meal deal" recipe is fantastic for a spring dinner. Fresh asparagus, flavor-packed farro and a quick & easy savory grilled chicken breast is sure to impress any guest. Check out our how-to video for this dish then find the recipe below.
Farro
If making this entire meal, we suggest you start the farro first as it takes the longest to prepare. This recipe will yield about 9 or 10 half-cup servings and is satisfying as a leftover, served hot (as we are with this recipe) or cold as a great accompaniment to a salad.
Ingredients:
2 cups Farro (Umbrian Farro — look for the Bartolini label)
3 1/2 cups chicken stock (or broth)
1 1/2 TBL Sigona's Fresh extra virgin olive oil
1/2 a yellow onion, diced
1/2 a large stalk celery, finely diced
1/2 a large carrot, peeled and finely diced
1 "Red" Fresno chili pepper, de-veined, seeded and very finely diced
Directions: In a large pot heat olive oil. Add diced onion, celery carrot and Fresno pepper and season with salt & pepper. Cook several minutes, working this mixture closely with a wooden spoon. Add the farro and work into the mixture for about a minute.
Next add chicken stock and bring to a boil.
Cover and reduce heat to a low simmer until tender (about 12-15 minutes). Liquid should all be absorbed and the farro should be loose and not stuck together. Serve and enjoy.
Savory Grilled Chicken Breasts
We recommend starting the chicken second so all the dishes finish at the same time.
Ingredients:
2 boneless, skinless chicken breasts, sliced in half lengthwise
2 large sprigs Rosemary, stripped, chopped and pressed
1 TBL Sigona's Fresh extra virgin olive oil
Salt & pepper, to taste
Directions: Pre-heat stovetop grill to medium high temperature. Cut the two chicken breasts lengthwise as evenly as possible. Remove all the needle-like leaves from the rosemary sprigs.
Chop and press rosemary leaves with your knife to let the highly aromatic oils be released. This will add a great flavor to the chicken breasts.
Add olive oil, salt & pepper and rosemary to the chicken breasts and work into the meat with your hands.
Place the chicken breasts on hot grill for about 2 1/2- 3 minutes on each side. Remove and serve.
Asparagus
No one likes mushy asparagus so be sure not to overcook the spears. It'll help if you prepare this last.
What you need:
1 1/2 lbs. fresh, local asparagus
Large pot of boiling water
Directions: Cut off and discard about 1 1/2 inches of the bottom of the asparagus. Just before you're ready to sit down for dinner, place asparagus in a pot of rapidly boiling water for about 2 minutes. Remove and serve immediately.
Cook's note: The asparagus will continue to cook once it is out of the pot. This is why I serve immediately. If I plan to use it later, I'll place it in an ice bath to instantly stop the cooking. I like to eat asparagus firm to be able to taste the sweet, fresh flavor of fresh local asparagus.
---
Asparagus for Any Dish
Once you have prepared asparagus on hand, you can use it in a number of ways. Plus, it'll keep in the fridge for 4-5 days, so prepare a bunch or two at the beginning of the week so you're able to grab & go.
What to do:
Boil asparagus for a couple of minutes then immediately submerge into an ice bath. This stops the cooking immediately, leaves the nutrients in, keeps the beautiful green color in the asparagus and helps prevent overcooking to the mushy state…nobody like mushy asparagus!
Asparagus prepared this way can be used in salads, future meals, healthy snacks and for the meal at hand. Here are a couple simple ways to prepare cooked asparagus for any dish.
---
Fresh Asparagus Salad with a Sweet Balsamic Reduction
Asparagus goes well with the flavors of Dijon mustard. If you look up vinaigrette for anything with asparagus, you can bet Dijon will be a star ingredients. Asparagus and balsamic also play well together so this is guaranteed to be a crowd pleaser.
Ingredients:
1 lb asparagus
2-3 TBL Sigona's traditional balsamic, 12-year-aged
1/2 TBL Dijon mustard
1 small clove garlic, minced
1 fresh basil leaf, julienned
2 TBL Sigona's Fresh Press extra virgin olive oil (we suggest our California Arbequina)
Salt & pepper, to taste
1/4 cup sliced almonds, toasted (bake in a single layer at 350F for 3-5 minutes or until lightly browned)
Directions: Boil asparagus for a couple of minutes then immediately submerge into an ice bath. Once cool, remove asparagus and dry with a paper towel. Then cut into thirds, diagonally, and place on a serving platter.
While the asparagus cools, pour balsamic into a small sauté pan over medium-low heat and cook to reduce by half. This can happen quickly, so keep an eye on it. Once reduced, pour it into a small mixing bowl.
To the balsamic add Dijon, basil and garlic. Season with salt and pepper. Then, while whisking, add the olive oil to emulsify the mixture.
Drizzle the balsamic mixture over the asparagus, toss to coat, and then sprinkle with the toasted almonds.
---
Pasta with Asparagus, Pancetta and Pine Nuts
It's asparagus season and we also have in some fantastic new olive oils that make a nice match. Recipe adapted from Cooking Light.
Ingredients:
8 oz. uncooked or fresh pasta (such as cavatappi or another spiral shape)
1 lb. fresh asparagus, cut into 1 ½ inch pieces
1-2 garlic cloves, minced
3 TBL pine nuts (toast them for more flavor, see back)
2 oz. pancetta, diced
Juice of 1 lemon (save the peel and grate a bit on top of the finished dish)
2 tsp. Sigona's Fresh Press extra virgin olive oil
Salt & pepper to taste
A pinch of red pepper flakes (optional)
Grated Parmigiano-Reggiano cheese (about 3 TBL)
Directions:
Preheat oven to 400°.
Cook pasta according to package directions, add asparagus to pan during last 3 minutes of cooking. Drain. Sprinkle pasta mixture with garlic; return to pan, and toss well.
Arrange pine nuts in a single layer on a jelly-roll pan. Bake at 400° for 3 minutes or until golden and fragrant, stirring occasionally. Place in a small bowl.
Increase oven temperature to 475°.
Arrange pancetta on jelly-roll pan. Bake at 475° for 6 minutes or until crisp.
Combine lemon juice, olive oil, salt, and pepper, stirring with a whisk. Drizzle over pasta mixture; toss well to coat. Sprinkle with pine nuts, pancetta, cheese and lemon zest.
Baked Asparagus
This is a quick and easy recipe you can use with asparagus this week. Be sure to check the coupon in the e-newsletter to see how you can get your ingredients for free!
What to do:
Rub the asparagus with Sigona's Fresh Press extra virgin olive oil. Sprinkle with salt and pepper.
Place on a baking sheet and bake at 350◦ for 7-8 minutes. At the last minute, sprinkle a little parmesan over it. Remove it from the oven, and to finish it, drizzle a little balsamic over it.
Serve warm.