In the Kitchen With Sigona's Featuring Page Mandarins
In the Kitchen with Sigona's featuring Page Mandarins
The Page mandarin is ranked No. 1 for sugar content and vitamin C by the world's largest citrus research center at Lindcove, Calif. To remove the rind from the fruit, you'll need a knife, but please trust us when we say it's worth the effort.
Page Mandarin and Spinach Salad with Almonds, Avocado and a Honey Ginger Vinaigrette
This healthy salad is simple yet flavorful. While the vinaigrette presents a sweet side, the mandarins add a bright, juicy punch. Make it an entrée by simply adding cooked chicken. Inspired by Pinterest. Serves 2 to 4.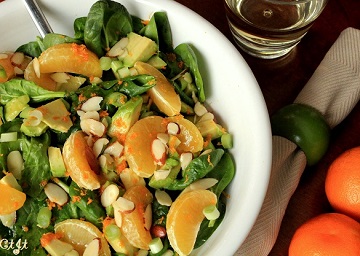 Ingredients:
2 or 3 Pesticide-free Page mandarins
Pinch or so of salt
1 Tbsp brown sugar
1/4 cup Sigona's Fresh Press Arbosana Extra Virgin Olive Oil
About 5 oz. baby spinach
3 green onions, sliced diagonally
1 large avocado, peeled and cubed
1/2 cup sliced almonds
Directions: Zest one of the mandarins to yield about 1 teaspoon of zest. Place zest in a small bowl and set aside. Peel the mandarins and separate the segments. Set aside.
To the zest, add the balsamic, brown sugar, salt and olive oil. Whisk well until emulsified. Set aside.
Place the spinach in a large serving bowl. Top it with the mandarin segments, sliced green onion, avocado cubes and almonds. When ready to serve, drizzle about half of the dressing on top of the salad and toss to combine. Add more dressing if desired; toss. Serve immediately with remaining dressing on the side.
Fresh Page Mandarin Salsa
This salsa is absolutely delicious on top of shredded chicken or fish tacos, or simply spooned over grilled fish. Adapted from Bon Appétit.
3 or 4 Pesticide-free Page mandarins, peeled and chopped (to yield about 1 cup)
1 cup cherry tomatoes, halved
1/2 cup finely diced red onion
3 radishes, diced
1/4 to 1/2 cup chopped cilantro
2 Tbsp Sigona's Fresh Press Arbosana Extra Virgin Olive Oil
Juice from 1 lime (about 2 Tbsp)
1 serrano chili or small jalapeño, seeded and minced
Salt, to taste
Directions: Stir together the mandarins, tomatoes, onion, radishes, cilantro, oil, lime juice and chili in a medium bowl. Season to taste with salt. Salsa can be made 2 hours ahead of serving. Cover; let stand at room temperature.
Angel Hair-covered Fried Scallops With Page mandarin-saffron Aioli
The recipe comes to us courtesy of our friend Luisa Ormonde of Luisa's Catering in San Carlos. Luisa says, "My friend Tony made this delicious appetizer last time he and his family were over our home for dinner. The photo is his gorgeous creation. Time: 20 minutes. Serves 6.
Ingredients:
1/3 cup freshly squeezed Page mandarin juice, plus 1 tsp zest
1/8 tsp (pinch) saffron threads
1/2 cup best-quality mayonnaise
Kosher salt
For the Scallops:
18 large sea scallops, patted dry with paper towels
2 large eggs, beaten with 1 TBL water
lemon pepper & kosher salt to taste
1/4 pound cooked angel hair pasta
Vegetable oil, for deep-frying
parsley or cilantro, for garnish
For the aioli: Put the Page mandarin juice and saffron in a small saucepan and bring to a simmer over medium heat. Cook for about 1 minute, until juice is infused with the saffron; stir in the zest and remove from the heat to cool slightly.
Whisk the Page mandarin mixture and the mayonnaise in a small bowl until combined. Season with salt and set aside while you cook the scallops.
For the Scallops: In a deep fryer or a deep, heavy saucepan, heat vegetable oil to 360 degrees F.
Lightly coat the scallops with the eggwash and season the scallops with lemon pepper and salt. Wrap each scallop with strands of cooked pasta until completely covered like a rubber band ball.
Place the covered scallops in batches in the hot oil and cook just until golden brown, turning, about 2 minutes. Remove from the oil with a slotted spoon and drain on paper towels. Serve hot, 3 scallops per person, with the saffron-Page mandarin aioli.
Chinese Chicken Salad in Wonton Cones with Page Mandarins
This recipe comes to us courtesy of our friend Luisa Ormonde of Luisa's Catering in San Carlos. Luisa says, "This is a fun way to serve Chinese chicken salad using seasonal mandarins. All the ingredients in the vinaigrette can be tweaked to suit your own taste. Note: If you don't have cone molds, just brush wonton skins on both sides with oil and bake at 350F degrees in muffin tins, until wonton crisps are golden brown, about 8-10 minutes. Yield: 24 appetizers.
Ingredients:
24 small square wonton wrappers (or you can cut large ones into 4 squares)
Canola oil
Soy-Honey Vinaigrette:
2 TBL freshly squeezed lime juice
1 TBL fresh ginger, peeled and finely grated
4 TBL "Honey Hole Honey Co." blackberry honey (from Sigona's)
1 tsp Dijon mustard
1/4 cup soy sauce
1 TBL seasoned rice vinegar
A few drops sesame oil
3 TBL canola or peanut oil
Salad:
2 cups finely shredded Napa cabbage
1 cup finely shredded radicchio
1/2 cup roasted, unsalted cashews, coarsely chopped
2 green onions, sliced finely
1/4 cup cilantro leaves finely chopped (optional)
12 fresh Page mandarin orange segments, each cut in half (for garnish), from about 2 mandarins
Chicken:
4 Rocky Jr. bone-in chicken breasts: seasoned with kosher salt and freshly ground pepper, roasted, skin and bones removed, meat finely diced
Directions: To make wonton cones (or see note in intro) with stainless steel pastry horn molds, wrap the pastry around the horn. To help seal the edges brush them with egg glaze and fry in hot oil until wonton crisps are golden brown (only takes a few minutes). Allow to cool for 5 minutes in the tin, then set drain on paper towels and repeat. (The cones can be made up to two days in advance.)
In a large bowl, whisk together vinaigrette ingredients. Just before serving, add chicken along with cabbage, radicchio, cashews, cilantro (if using) and green onions. Toss thoroughly and season to taste with salt and pepper. Serve in wonton cones or wonton cups and top each with a mandarin segment.
Page Mandarin Muffins
Serve these sweet treats with honey butter as a nice accompaniment to ham. Makes 12.
Ingredients:
2 cups all-purpose flour
1/2 cup sugar
2 tsp baking powder
1 tsp baking soda
1/2 tsp salt
1 cup vanilla yogurt
1 egg, lightly beaten
1/4 cup butter, melted
2 TBL milk
1 cup diced, peeled Page mandarin (about 2 large mandarins, 3 medium)
1 TBL grated Page mandarin zest
Directions: In large mixing bowl, mix together the flour, sugar, baking powder, baking soda and salt.
In a small bowl, stir together the yogurt, egg, butter and milk. Stir into dry ingredients and blend until just combined. Stir in mandarin and zestl.
Fill greased muffin pan cups (or use paper liners) to two-thirds full. Bake at 400F for 18-20 minutes or until a toothpick comes out clean. Cool in pan for about 5 minutes, then transfer to a wire rack or serve.
Sliced Page Mandarins and Baby Greens with a Simple Vinaigrette
"Imagine the color here, with the bright orange of the mandarins against the deep green of the baby spinach. Though simply dressed with a vinaigrette using seasoned wine vinegar, this salad gets a big reaction. It's gorgeous." – Local grower Paul Buxman of Sweet Home Ranch in Dinuba, Calif.
Mild olive oil, such as Sigona's Fresh Press Sweet Barnea
Seasoned rice vinegar
Kosher salt
Fresh-cracked pepper
Sugar
For the salad:
Page mandarins, peeled and sectioned
Baby spinach
Romaine hearts, torn or diced into pieces
Directions:
In a small jar with a lid, mix together the oil and vinegar (about 90% vinegar and 10% olive oil), adding in a bit of salt, pepper and a pinch of sugar for seasoning. Top with the lid and shake until will combined.
Arrange spinach and romaine on individual salad plates, garnishing with Page mandarin segments. Drizzle with the vinaigrette and enjoy!