In the Store with Sigona's Featuring: Satsuma Mandarins
Blue Jay Satsumas: Bright, juicy, convenient – and maybe just a bit of luck.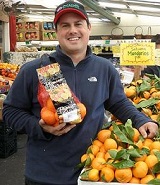 Robbie Sigona
They are my sons' favorite. They're my favorite and Uncle Carmelo's favorite.  I'll bet they're everyone's favorite. I'm talking about Satsuma mandarins – those quick, little, bright and juicy, satisfyingly sweet snacks. Seedless, easy to peel and bursting with juice, Satsuma mandarins are ready proof that good things come in small packages.  And best of all, they're at the peak of the season right now.
Our Blue Jay Satsumas:  For a Celebration Day. For Any Day.
Our Satsumas come from just east of Bakersfield, where the Johnston family has been growing them for four generations under the Blue Jay label.  Their goal is to make sure Blue Jay produce not only looks superb, but has the flavor to match.  And it shows: Blue Jay Satsuma mandarins are always excellent, and that's why I seek them out each year.
They send us their best – Satsumas with the stem and leaves attached. You can see just how fresh they are:  the leaves are vibrant in color and have a beautiful sheen.
In addition to their beauty, many people prize Satsuma mandarins for what they represent.
In China, mandarins are used for temple offerings.  The color orange is associated with prosperity; it's considered a prayer for good fortune.  During Chinese New Year, people give them as gifts to family, friends, and colleagues.  Some keep them on display as well.
Another tradition is around weddings.  The groom's parents give the bride two mandarins to share with her husband on their wedding day, representing the family's wish for the new couple to enjoy a happy, full life together.  While any mandarin will serve the purpose, a fruit that includes the stem and leaf is more complete, making a lovely tradition even more meaningful!
And of course, many of us are familiar with the Christmas tradition of putting an orange in the kids' stockings.  While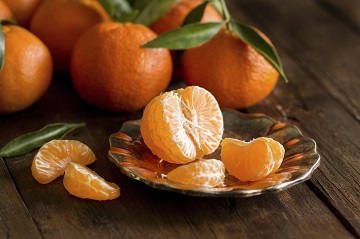 the origin of this isn't clear, the story we like is that St. Nicholas would put an orange into the stockings of all the good little girls and boys because it represents gold –and after all, wouldn't Good St. Nick say all children are as good as gold?
With their stems and leaves intact, they not only taste great, they look scrumptious, too – perfect heaped in a bowl full of mandarins, pomegranates and in-shell walnuts for a striking centerpiece.  Or more simply, when you have people over, why not put a big bowl out on the coffee table? You'd be surprised – or maybe you wouldn't – at how fast they'll go.
Satsumas are the ultimate kid-friendly treat, and kids of all ages love them! Small enough to fit one or two in the palm of your hand, they also fit nicely in a lunch box. While Satsumas are great snacks by themselves, make sure you check out some of our serving suggestions and recipes, such as a recipe for Satsuma and Blood Orange Olive Oil Cake. They have fantastic flavor!