In the kitchen with Sigona's featuring: Mini Lemon Tartlets with Laura Chenel's Chèvre
Mini Lemon Tartlets with Laura Chenel's Chef's Chèvre
Surprisingly simple and delicious, these little lemon and goat cheese tarts taste like lemon cheesecake. Recipe and photo courtesy of Laura Chenel's Chèvre in Sonoma. Makes 12 tartlets.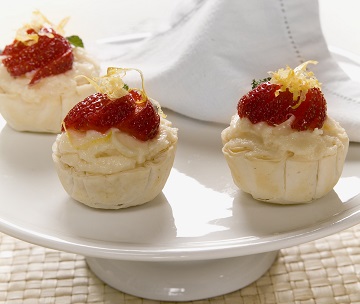 Ingredients:
1/2 cup Laura Chenel's Chef's Chèvre
1/2 cup lemon curd, homemade or prepared (we recommend Hurley Farms Lemon Curd, made in Napa, CA, available at Sigona's)
12 frozen mini pastry shells or tartlet shells, prepared according to package directions
Fresh raspberries, strawberries or other seasonal berries, sliced, for garnish
Fresh lemon zest, for garnish
Directions: In a medium bowl, cream together the lemon curd and Chef's Chèvre until smooth.
Spoon the curd into the pastry shells and garnish with berries and a pinch of lemon zest.
Chill at least 30 minutes before serving.