Leftover cranberry sauce?
Leftover Cranberry Sauce?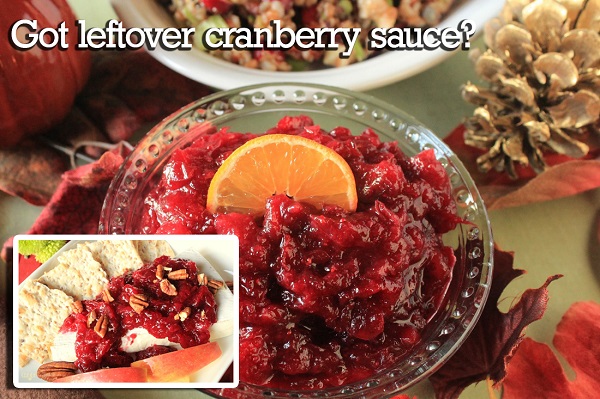 Do you have leftover cranberry sauce? Then make yourself one of these delightful treats!
Puff Pastry Wrapped Baked Brie with Cranberry Sauce
How to prepare:
Slice a round of Brie in half, creating two rounds
Spread on a thick layer of cranberry sauce on the bottom half, then top with the remaining Brie half
Wrap the combo in puff pastry, being careful to secure all seams, and brush the top with an egg wash
Bake at 350F for 25-35 mins, or until the top is a lovely golden brown
Serve with Berta Maria cookies — you can serve with regular crackers, but the Berta Maria really add to the flavor of this indulgence
Enjoy, wishing you'd thought of this last year!
Warm Brie Topped with Cranberry Pear Compote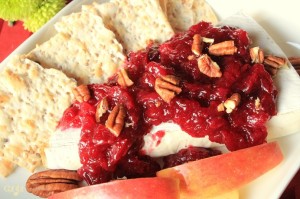 What you need:
A wedge of Fromage D'Affinois
1/3 cup water
1/3 to 1/2 cup sugar, to taste
Pinch of salt
2 tsp grated fresh ginger
Pinch of cinnamon
6 oz. fresh cranberries
1 pear, peeled, cored and diced
For serving: assorted crackers, apple slices, pear slices, baguette slices, gingersnaps
For garnishing: Chopped raw pecans or pistachios
Directions: Bring water sugar, salt, ginger and cinnamon to a boil over high heat; stir frequently to dissolve sugar.  Stir in cranberries and pears; return to boil.  Reduce heat to medium; simmer, stirring occasionally, until everything has cooked down, cranberries have burst and pears are very soft (it will take some time, 30 minutes or more). Mash the mixture a few times with a potato masher if desired. Remove from heat and set aside.
Prepare a baking sheet with a piece of parchment paper. Add the Brie and bake 500°F for 3 to 5 minutes (you just want it warmed, not melted). Transfer to a serving platter and top with half or more of the cranberry sauce; serve the rest of the sauce on the side. Offer Brie with assorted crackers, apple slices, pear slices and baguette slices. It's also delightfully festive with gingersnaps.