Recipe Roundup: Pomegranate Balsamic
Our traditional 12-year-aged balsamic takes a tour of the Middle East with deeply nuanced flavors of pomegranate that shimmy across your palate. Even after 1,001 nights and 1,001 uses, you'll find yourself coming back for more. Tart, yet sweet, this pomegranate balsamic walks the line between the two. One taste and you'll be hooked.
Pomegranate Balsamic Stewed Figs
Why not stew figs with fig balsamic? Well, you could, but the pomegranate adds just the right of tart, to help temper the sometimes surprisingly strong sweetness of the figs, and it also brings another layer of flavor to this simple but delectable spread. Serve this on a charcuterie board along with Sweet Grass Dairy's Green Hill cheese, dollop it on ice cream or pair it with a grilled pork chop. Inspired by The Oil & Vinegar Lover's Handbook. Makes about 2 cups.
Ingredients:
1 lb. fresh figs (preferably Black mission figs)
1/4 cup Sigona's Pomegranate Balsamic
2 Tbsp honey, such as raw, local Honey Hole Honey Co. honey found only at Sigona's
2 Tbsp water
Directions: Rinse and pat dry the figs. Remove the stems and quarter the fruit. Add figs to a heavy-bottomed saucepan along with the balsamic, honey and water. Use a wooden spoon to gently mush the figs a bit to release some of their seeds and juices.
Bring to a simmer over low/medium-low heat. Continue to simmer, stirring frequently, for 20 minutes. The finished mixture should be thicker with a syrup-like consistency.
Allow to cool to room temperature before serving. Store in an airtight container in the fridge for up to 1 month.
---
Pomegranate Balsamic Roasted Brussels Sprouts
A beautiful dish for fall that's great for your Thanksgiving menu. The sweetness of the pomegranate balsamic takes on an even more sweeter, caramelized flavor as it roasts with the Brussels sprouts. This dish is dairy-free, gluten-free and vegan friendly. You'll love it! Serves about 4.
Ingredients:
Directions: Preheat oven to 400 F. Line a rimmed baking sheet with parchment paper or foil.
Slice Brussels sprouts in half lengthwise.
In a large bowl, whisk together the balsamic and olive oil. Add the Brussels sprouts and toss to coat well. Season with salt and pepper to taste.
Dump the Brussels sprouts onto the baking sheet and spread out in a single layer. Place in the oven to roast for 20 to 30 minutes, shaking pan at the 10 to 12 minute mark. Roast until Brussels sprouts are tender-crisp and nicely browned.
Transfer Brussels sprouts to a serving bowl and top with pomegranate arils. Serve warm.
---
Protein-Packed Roasted Winter Salad with Lentils, Sweet Potato and Rockit™ Apples
Firm and sweet Rockit™ apples are perfect for roasting. They add a wonderful sweetness to this warm roasted winter salad with sweet potatoes, kale and black lentils. This healthy protein-strong salad makes a hearty main for two or a colorful starter for four. Recipe and photo courtesy of Chelan Fresh. Serves 2 to 4.
Salad
1/2 cup black lentils (also called "caviar" or "beluga" lentils)
3 Rockit™ apples, cored and cut into 1 inch cubes
1 medium sweet potato, peeled and cut into 1 inch cubes
1/2 large red onion, peeled and roughly cubed
2 tsp Sigona's Fresh Press Extra Virgin Olive Oil
1 Tbsp fresh rosemary, minced
1/4 tsp sea salt
1/4 tsp fresh ground pepper
4 cups kale, torn into small bite sized pieces and massaged for 2 minutes (this softens the kale a bit to it's easier to chew)
1/4 cup hazelnuts, toasted and peeled
Handful fresh parsley, chopped, for garnish
Vinaigrette
Directions: Preheat oven to 425°F.
Place lentils in a small sauce pan and cover with three inches of water. Bring to a boil and cook until soft but not mushy, about 15 to 20 minutes.
Meanwhile, toss the apples, sweet potato and red onion in olive oil. Spread onto baking sheet and sprinkle with salt, pepper and rosemary. Bake in oven for 25 to 30 minutes, until fruit and vegetables are cooked through but still firm.
To prepare the vinaigrette, add the olive oil and pomegranate balsamic in a small bowl and whisk until completely combined. Add the rest of the vinaigrette ingredients and whisk until emulsified.
Drain and rinse the cooked lentils thoroughly, then place in a large bowl. Add the kale and half of the vinaigrette and mix carefully. Set aside.
Add the roasted fruit and vegetables to the lentil and kale mix along with the toasted hazelnuts and parsley. Stir to combine.
When ready to serve, add some more vinaigrette, one tablespoon at a time, stirring well after each addition, being careful not to over dress — you want the ingredients coated but not soaked. Serve remaining vinaigrette, if any, on the side.
Plate and serve immediately.
---
Pumpkin-Pie-Spiced Acorn Squash Stuffed with Quinoa, Kale and Pomegranate
You'll be delighted with the flavors of this side dish. The pumpkin pie spice gives the squash a warm depth of flavor that is simply delicious with the quinoa stuffing. The pomegranate arils provide a perfect burst of tart-sweet that brings it all together. Adapted from Cooking Light. Serves 2 to 4 as a side.
Ingredients:
1 acorn squash
1 1/2 Tbsp. Fresh Press Extra Virgin Olive Oil, divided
1/2 tsp. pumpkin pie spice, divided
Salt and pepper, to taste
2 Tbsp. uncooked quinoa
2 Tbsp. fresh lemon juice
1 large leaf of green kale, tough stem discarded, greens thinly sliced and roughly chopped (about 1 to 1 1/2 cups)
1/4 cup pomegranate arils
2 Tbsp. minced shallot
1 tsp. honey, such as Wild flower honey by Honey Hole Honey Co., available at Sigona's
1 Tbsp. Sigona's Pomegranate Balsamic
Directions: Preheat oven to 350°F. Line a baking sheet with parchment paper.
Since the stem end off of the acorn squash, about 1 inch down, to create a lid. Slice a little off the opposite end so the squash will sit upright. Scoop out and discard the seeds and membrane. Rub the inside of the squash and lid 1/2 tablespoon of olive oil and sprinkle with 1/4 teaspoon pumpkin pie spice; season with salt and pepper to taste.
Place the squash and the lid cut-side down on the baking sheet and roast for 55 minutes or until tender.
Meanwhile, cook the quinoa according to package directions.
In a large bowl, whisk together the lemon juice, remaining pumpkin pie spice and olive oil. Season with salt and pepper to taste. Add kale, cooked quinoa, pomegranate and shallot; toss well to coat.
In a small bowl, mix together the honey and balsamic; set aside.
Scoop the kale stuffing into the hollow of the cooked squash and place on a serving dish.
Drizzle half of the balsamic and honey mixture over the stuffed squash and serving dish. The squash lid can be used as decorative garnish; the flesh can be scraped out and eaten if desired.
To serve, slice the squash in half or quarters, making sure each piece is served with an equal amount of the stuffing. Drizzle with remaining balsamic and honey mixture.
---
Roasted Butternut and Asian Pear Salad with a Pomegranate Vinaigrette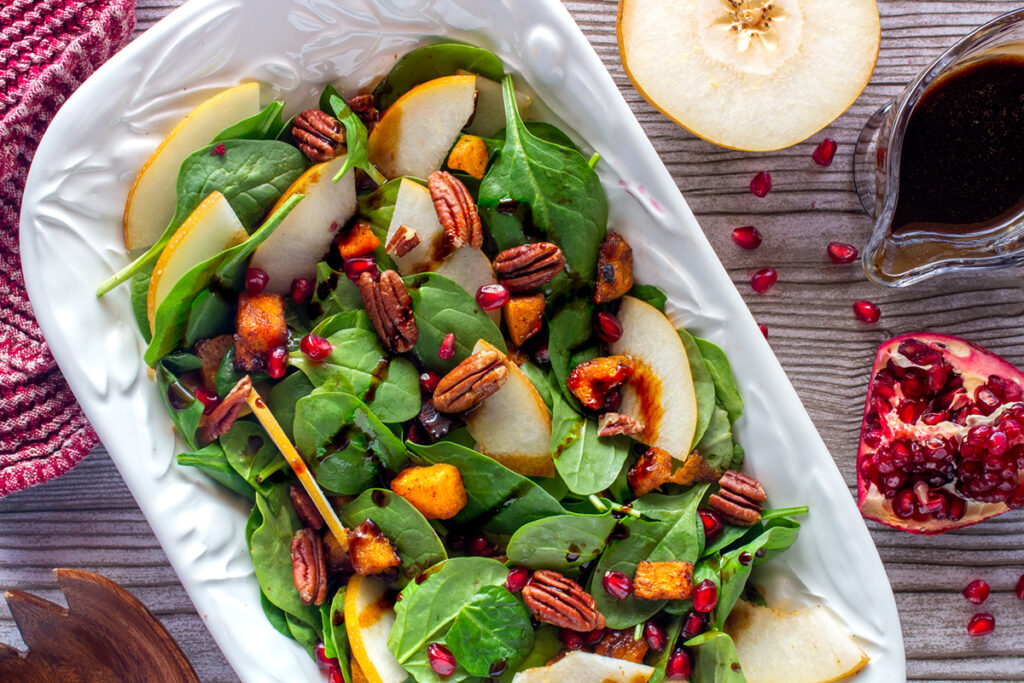 These flavors may scream fall, but sometimes you just need a hearty, comfort-flavored salad, right? Add cheese or leave it off for a diary-free option. Goat or Feta adds a nice salty and creamy factor, if you choose to use it, and pairs beautifully with the roasted squash and bright, juicy pomegranate seeds. Asian pears are crisp and hold up well in salads, but you can also use apple or pear. Serves about 6.
For the butternut squash
1 Tbsp Sigona's Garlic Oil
1 Tbsp honey, such as local, raw Honey Hole Honey Co. honey, available only at Sigona's
1/4 tsp each cinnamon and ground chili powder
Salt and pepper, to taste
About 2 cups cubed (about 1/2-inch cubes) butternut squash
For the salad:
About 12 oz baby spinach (or about 1 to 2 hefty handfuls per person)
1 Asian pear, halved, cored and sliced on a mandoline, at about 3mm. (use half or all, depending on size of pear)
1/2 cup glazed pecans (look for other pecan options in Sigona's Dried Fruit & Nut section)
At least a 1/2 cup fresh pomegranate arils (seeds), more to taste/appearance
Optional: crumbled feta or goat cheese
For the dressing:
3 Tbsp Sigona's Garlic Oil
1/2 tsp Dijon mustard
Salt and pepper, to taste
Optional: 1/2 tsp honey, if you find the vinaigrette to be too tart once mixed
Directions: Preheat oven to 400°F and line a rimmed baking sheet with foil. To prepare the squash, whisk together the garlic oil, honey, cinnamon, chili powder, salt and pepper. Add the squash and toss to coat. Spread out in a single layer on the baking sheet and roast for 25-30 minutes, flipping the cubes half-way through, until tender but not mushy.
To make the dressing, either whisk together all ingredients in a medium bowl or add to a lidded jar and shake until emulsified.
In a large mixing bowl, toss the spinach with the pear and squash. Transfer to a serving platter or distribute among individual plates. Top with pecans, pomegranate arils and cheese, if using, then drizzle the dishes with a bit of the vinaigrette. Serve remaining vinaigrette on the side.