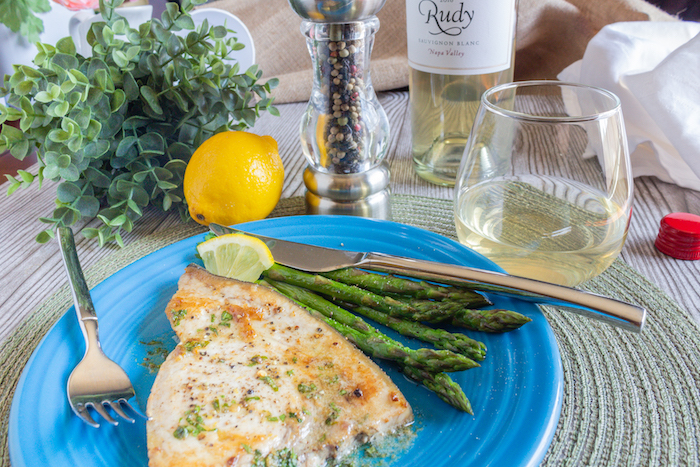 Swordfish is sometimes said to be the steak of the sea, so why not cook it like one? Giving the swordfish a good sear and allowing it to finish in the oven allows for even cooking and leaves the skillet with a fantastic base with which to make a quick finishing sauce. Inspired by Bon Appetit. Serves 2.
Ingredients:
2 Tbsp butter, at room temperature
1 scant Tbsp chopped fresh parsley
About 1/2 tsp coarsely ground mixed peppercorns, plus more for seasoning
Zest from half a lemon
Salt, to taste
2 Tbsp Sigona's Garlic Oil
2 Swordfish steaks
Lemon wedges, for serving
Directions: Allow the fish to sit out at room temperature for at least 25 minutes before cooking.
Preheat oven to 400°F.
In a small bowl, mix together the butter, parsley ground peppercorns and lemon zest. Set aside.
Heat oil in a cast iron or heavy-bottomed, oven-proof skillet over medium-high heat. Lightly season the swordfish with salt and pepper, then add to the skillet. Sear on one side for 3 minutes then flip and immediately place in the oven (careful of the hot handle). Roast for about 7 to 9 minutes or until cooked through (internal temp should be at least 130-135°F).
Transfer swordfish individual serving plates and set aside. To the same skillet, add the peppercorn butter mixture. Scrape up any brown bits from the bottom of the skillet as the butter melts (add low heat if necessary, but pan should still be hot).
To serve, drizzle the butter over the swordfish and serve immediately. Offer a lemon wedge on the side.