Dream of the Mountain Ravioli with Lemon, Spring Vegetables & Crumbled Bacon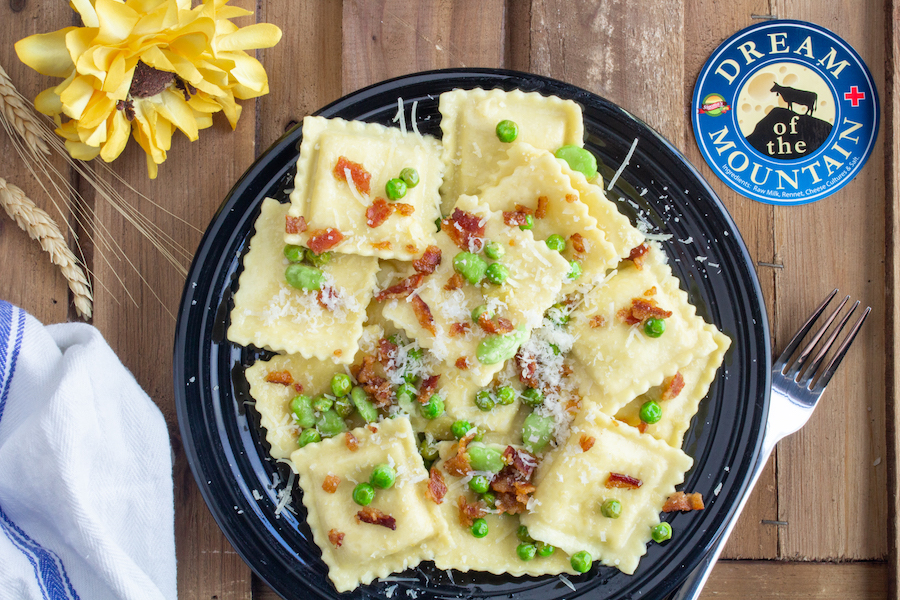 Our Dream of the Mountain ravioli is a specialty item at Sigona's – the only place on earth you can find it! The filling is made with a cheese hand-selected and named by our own cheese buyer during a trip to Switzerland, and the ravioli are crafted by local pasta maker Saporito Pasta in Redwood City. This is a delicious way to incorporate spring vegetables to your dinner. Don't forget to finish the dish with a squeeze of fresh lemon juice! Serves 2 to 4.
Ingredients:
3 slices of bacon
1 pkg of Sigona's Dream of the Mountain Ravioli (12 oz)
2 TBSP unsalted butter
1 tsp finely grated lemon zest
1 tsp lemon juice, plus more for finishing
1/2 cup Fresh English peas
1/2 cup fava beans (if you use the fresh favas, and we hope you do, find tips for shelling and preparing fava beans on our blog)
1/4 cup freshly grated Pecorino-Romano cheese, plus more for topping
Salt and pepper, to taste
Directions: Fill a large pot with salted water and set it on the stove to heat to a boil.
Meanwhile, fry the bacon over medium-high in a large skillet until crispy. Remove from heat, transfer bacon to a plate and pour out all but about 1 teaspoon of the rendering. Set skillet and bacon aside while you prepare the ravioli.
Cook ravioli according to package directions, reserving about 1/2 cup of the cooking liquid.
When ravioli is cooked, heat the skillet with the bacon rendering over medium. Add the butter, lemon zest and juice. When butter is melted, add the peas, fava beans and 2 tablespoons of the pasta cooking liquid. Cook for 2 minutes then add in the ravioli and the cheese, adding another tablespoon or three to keep the ravioli from sticking and also to make for a light sauce. Season with salt and pepper. Stir together and cook another 2 minutes or until the cheese is melted and the ingredients are warmed through.
Transfer the ravioli to individual serving dishes, crumble the bacon on top and sprinkle with more cheese. Finish with a squeeze of lemon juice and serve immediately.