Recipe Roundup: Dream of the Mountain Ravioli
What makes Dream of the Mountain Ravioli so unique? It's filled with our exclusive, customer-favorite mountain cheese, Dream of the Mountain, is made by our friends at Saporito Pasta in Redwood City. 

This fantastic cheese which was hand-selected in Switzerland by our Specialty Food & Cheese Curator, John Nava back in 2019. Follow the link for the rest of the story behind this ravioli and Dream of the Mountain!
Pick up a package of the ravioli today and try it using one of these recipes!
Dream of the Mountain Ravioli with Lemon, Spring Vegetables & Crumbled Bacon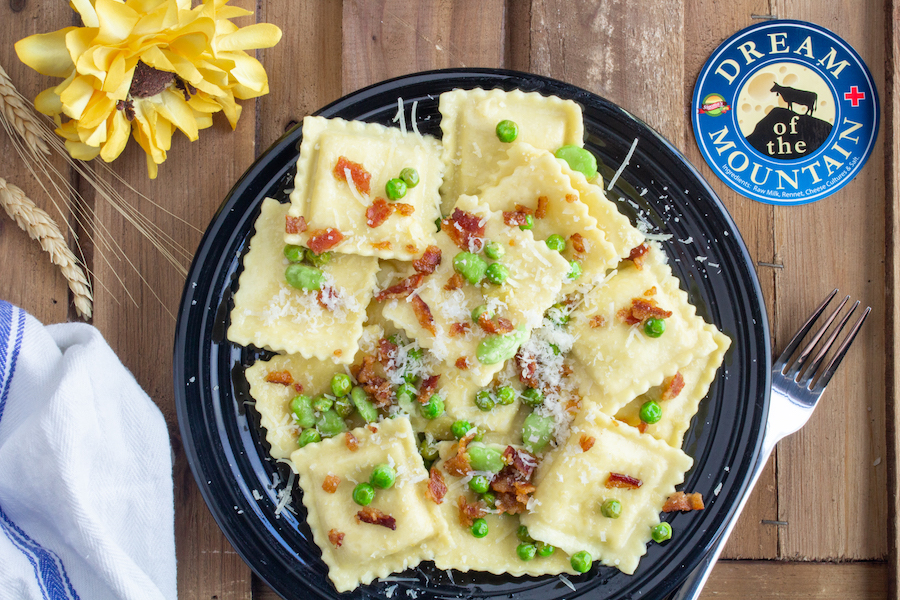 Our Dream of the Mountain ravioli is a specialty item at Sigona's – the only place on earth you can find it! The filling is made with a cheese hand-selected and named by our own cheese buyer during a trip to Switzerland, and the ravioli are crafted by local pasta maker Saporito Pasta in Redwood City. This is a delicious way to incorporate spring vegetables to your dinner. Don't forget to finish the dish with a squeeze of fresh lemon juice! Serves 2 to 4.
Ingredients:
3 slices of bacon
1 pkg of Sigona's Dream of the Mountain Ravioli (12 oz)
2 TBSP unsalted butter
1 tsp finely grated lemon zest
1 tsp lemon juice, plus more for finishing
1/2 cup Fresh English peas
1/2 cup fava beans (if you use the fresh favas, and we hope you do, find tips for shelling and preparing fava beans on our blog)
1/4 cup freshly grated Pecorino-Romano cheese, plus more for topping
Salt and pepper, to taste
Directions: Fill a large pot with salted water and set it on the stove to heat to a boil.
Meanwhile, fry the bacon over medium-high in a large skillet until crispy. Remove from heat, transfer bacon to a plate and pour out all but about 1 teaspoon of the rendering. Set skillet and bacon aside while you prepare the ravioli.
Cook ravioli according to package directions, reserving about 1/2 cup of the cooking liquid.
When ravioli is cooked, heat the skillet with the bacon rendering over medium. Add the butter, lemon zest and juice. When butter is melted, add the peas, fava beans and 2 tablespoons of the pasta cooking liquid. Cook for 2 minutes then add in the ravioli and the cheese, adding another tablespoon or three to keep the ravioli from sticking and also to make for a light sauce. Season with salt and pepper. Stir together and cook another 2 minutes or until the cheese is melted and the ingredients are warmed through.
Transfer the ravioli to individual serving dishes, crumble the bacon on top and sprinkle with more cheese. Finish with a squeeze of lemon juice and serve immediately.
---
Dream of the Mountain Ravioli with Brown Butter & Sage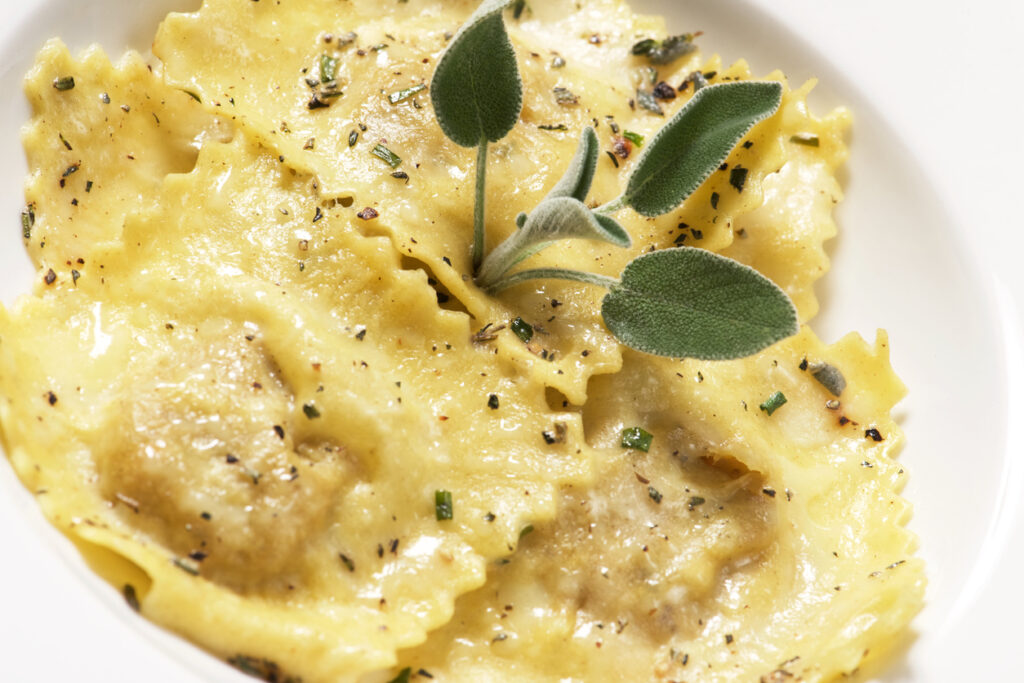 Browning butter brings all the boys to the kitchen. That's right – the smell of butter slowly melting and browning delivers mouth-watering scents, especially when fresh sage is added and infuses its fresh, earthy flavor to the mix. The browned mixture is absolutely delicious when drizzled over our Dream of the Mountain cheese-stuffed ravioli, a pasta so unique you'll only find it at Sigona's. We work with Saporito Pasta in Redwood City to make the ravioli using a mountain cheese from Switzerland that is found only at our stores. How cool is that? Serves 2 to 4.
Ingredients:
8 oz. unsalted butter
About 1/3 cup fresh sage leaves, larger leaves sliced
Salt and pepper, to taste
1 package Dream of the Mountain ravioli, made locally and found only at Sigona's
Directions: Place the cold butter in a medium skillet preheated over medium heat. Do not swirl or move around. Once the butter has melted and has begun to turn brown around the edges, add the sage and salt and pepper, to taste.
When the sage begins to give off its aroma and slightly crisps up, turn off the heat.
Meanwhile, cook ravioli according to package directions. Drain and transfer to a serving dish. Drizzle immediately with the browned butter.
---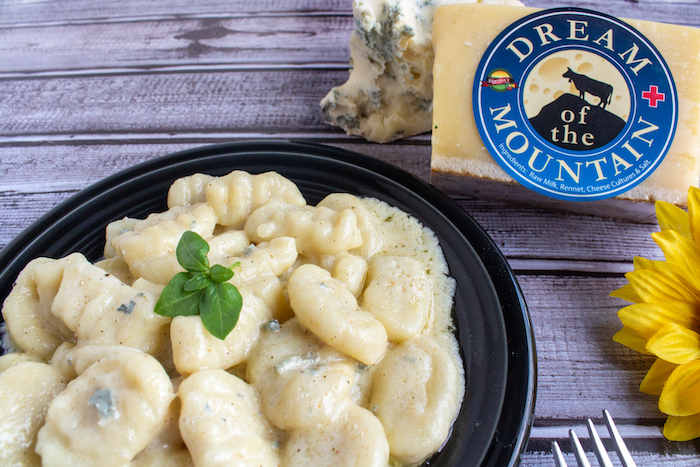 Want to make something else using the Dream of the Mountain Cheese? Pick up a wedge at Sigona's and then check out our recipe for Carmelo's Homemade Gnocchi in a Dream of the Mountain & Dolce Gorgonzola Cheese Sauce.