Oregano Balsamic-Roasted Tomatoes with Burrata
Simply saying burrata in front of a cheese lover will make them swoon. Burrata is similar to mozzarella, but the center is gooey and spreadable without being heated.
We have a few other suggestions for using burrata, including Romano Beans with Burrata, Roasted Eggplant, Fresh Basil and Sigona's Garlic Oil. You can find more suggestions here!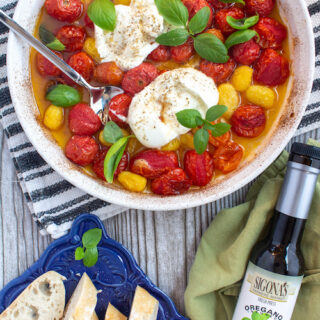 Oregano Balsamic-Roasted Tomatoes with Burrata
This is flavorful and delicious. We love it spread over baguette slices. Serves about 4 to 6.
Instructions
Preheat oven to 400°F.

Combine tomatoes, garlic, olive oil and salt in a medium baking dish. Toss to coat well. Roast for 30 minutes.

Meanwhile, reduce the balsamic. Add the balsamic to a small sauce pan over medium-high heat. Bring to a lively simmer the reduce heat to low; cook for about 12 minutes more, stirring occasionally, until reduced by at least half and thickens. Remove from heat; it will thicken as it rests.

Remove the tomatoes from the oven, smash the garlic with a fork and gently stir the mixture. Gently tear open the burrata and nestle it in among the tomatoes. Spoon or drizzle the balsamic reduction over the top of the dish and finish with fresh basil and pepper. Serve warm or at room temperature with slices of a baguette.