January 2023 Olive Oil & Balsamic Sale Recipes
Each month we put different infused olive oils and balsamics on sale so everyone has a chance to try them!
On sale this month are: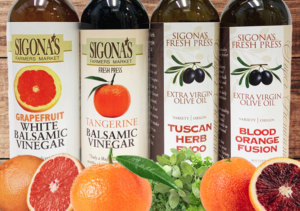 Grapefruit White Balsamic
Tangerine Balsamic
Tuscan Herb Olive Oil
Blood Orange Fusion Olive Oil
Save $2 on featured infused olive oils and $3 on featured infused balsamics! Sale valid in our markets and online through January 31, 2023.
Following are some serving suggestions, such as Panko & Parmesan Crusted Cauliflower Steaks with a Tuscan Herb Ragout!
See also:
Sigona's Grapefruit White Balsamic Recipe Roundup
Tangerine Balsamic Recipe Roundup
Recipe Roundup: Sigona's Tuscan Herb Olive Oil
Recipe Roundup: Blood Orange Fusion Olive Oil
Grapefruit & Greens Salad with Avocado, Pistachios and a Grapefruit Vinaigrette
This is a cheerful salad for winter. The a tangy pink grapefruit awakens the palate while the dried cranberries and pistachios add more layers of flavor, interest and delight to the dish. Leave off the cheese if you wish. Adapted from The Olive Oil and Vinegar Lover's Handbook. Serves 4.
Check out this recipe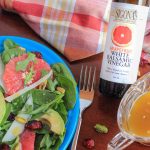 California Arbosana Brownies with a Dark Chocolate and Tangerine Balsamic Ganache
Chocolate and orange is a classic combination. You're going to love these decadent brownies! Sigona's Fresh Press California Arbosana Extra Virgin Olive Oil is generally just picked and pressed around November and arrives in our markets by early January. Recipe complements of Rachel Bradley Gomez of Veronica Foods and Au Jardin Potager.
Check out this recipe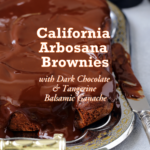 Panko & Parmesan Crusted Cauliflower Steaks with a Tuscan Herb Ragout
Crispy, toasted cauliflower steaks topped with tomato & bean ragout made with our Tuscan Herb olive oil is sure to be a new favorite. It's a great meal to serve on meatless Monday, and it's easy to make for those who prefer vegetarian dishes or need something gluten-free (just use gluten-free panko). Serves 2.
Check out this recipe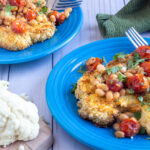 Blood Orange, Cinnamon & Rosemary Roasted Sweet Potatoes
You'll love the flavors in this keto, paleo & whole30 friendly sweet potato dish. It's also dairy- and gluten-free! The thin slices get deliciously crispy under the broiler, but also stay tender, creating a nice mouthfeel in every bite. Inspired by Thyme & Joy. Serves 2. Easily doubled.
Check out this recipe