Cooking with Carmelo Sigona: Fava Bean Bruschetta
Cooking with Carmelo: Fava Bean Bruschetta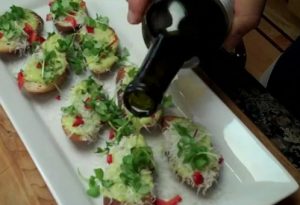 Fava bean encounters are inevitable when you're Sicilian. As a boy, we'd have fava beans with pasta, fava beans in soup, fava beans sautéed with pancetta, fava beans with mixed vegetables and even fava beans with fava beans! Despite their frequency in our diet, I never grew tired of fava beans; especially when we found new ways to enjoy them.

Once you have the fava beans out of their pods, boiled and shelled, this recipe comes together in a matter of minutes. It's great as a crowd pleaser and is just as perfect when simply paired with a glass of wine for those moments you finally get to catch up on your DVR'd favs. Check out the video below to see how easy it comes together.

Our Fresh Press Arbequina olive oil from Portugal is just right for this dish. Its buttery, rich & fruity notes really enhance the delicate flavor of the fava beans. You'll love it.
For the topping:
1 ½ cups Cooked & Shelled Fava Beans (about 3 lbs. of in-pod beans)
½ tsp Lemon Zest
1 TBL Lemon Juice
2 TBL Sigona's Fresh Press Extra Virgin Olive Oil (we recommend the bomb…Our Arbequina from Portugal)
3 cloves fresh garlic, crushed and sautéed just slightly in 1 tsp. Sigona's olive oil (the Portuguese Arbequina), about 30 seconds
2 TBL Broth, chicken or vegetable
Salt and Pepper, to taste
1 sweet baguette
Garnish:
1/2 a Red Fresno pepper, seeded and finely diced
1/3 cup Micro greens
Freshly grated Pecorino cheese
Sigona's Fresh Press Extra Virgin Olive Oil (the Portuguese Arbequina), for drizzling
Directions for the spread:
Shell favas from their large pods and place in boiling water for 4-6 minutes. Remove and let cool down or place into an ice bath. Remove inner bean from its outer layer and discard outer layer.
Place all ingredients in a blender, season and blend. Check seasoning, adjust as necessary.
Directions for the bread:
For the bread I like using a sweet baguette – prepare at least 8 slices or more, cut on the diagonal.
Brush both sides of the bread with Sigona's Fresh Press Extra Virgin Olive Oil (the Portuguese Arbequina).
You can put these in the oven to broil but I recommend using a stovetop grill. Grill both sides just slightly on a medium high heat, just about 1 min per side. This makes the bread crispy on the outside and chewy on the inside…perfect for your bruschetta. Remove from the grill and season with a bit of salt.
Plate & Serve:
Spread a bit of the fava mix on each bread slice. Garnish with freshly grated Pecorino cheese, a little finely chopped Red Fresno pepper and a pinch of micro greens. Complete plating with a light drizzle of the Arbequina oil.