In the Kitchen with Sigona's Featuring: Kent Mangoes
Kent Mango, Jicama and Crisp Apple Salad
You'll fall for the sweetness of the mango, bright flavor of the lime and the crunch of both the jicama and Granny Smith apple in this perfect summer salad. Adapted from Cooking Light. Serves 4.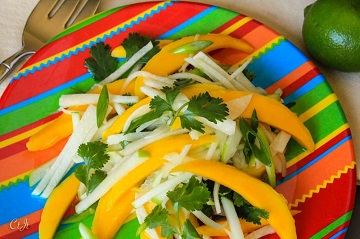 Ingredients:
2 Tbsp fresh lime juice (from about 1 lime)
2 tsp. honey, such as Tangerine Orange honey from Honey Hole Honey Co. (available at Sigona's)
Salt, to taste
About 4 oz. jicama, peeled and sliced into matchsticks, totaling about 3/4 cup
About half a Granny Smith apple, cored and sliced into matchsticks, totaling about 3/4 cup
1 Kent mango, peeled and sliced into 1/4-inch thick wedges
1 to 2 green onions, sliced on a bias
1/4 cup chopped fresh cilantro
Directions: Whisk together the the juice, honey and salt in a large bowl. Add the jicama, apple, mango, onion and cilantro. Toss to coat well. Serve immediately.
Mango and Chia Pudding Parfait
Chia pudding is so easy, you'll ask yourself why you don't make it more often. This is a simple, delightful dessert that, when layered as a parfait, is aesthetically impressive, too.  Serves 4.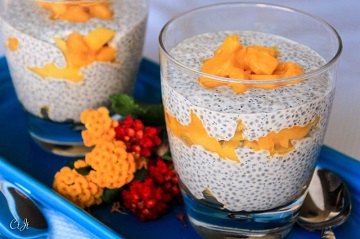 Ingredients:
1 can (about 13.5 oz.) unsweetened Coconut milk, such as Thai Kitchen
6 Tbsp chia seeds, such as Bob's Red Mill
A splash of vanilla extract, about 1/2 tsp.
A pinch or two of cinnamon
2 Kent mangoes, peeled and diced
Directions: In a medium bowl, whisk together the coconut milk, chia seeds, vanilla and cinnamon. Allow the mixture to rest at room temperature for 20 minutes. Cover and refrigerate for a minimum of 3 hours (can chill overnight).
Meanwhile, prepare the mango. Keep it chilled.
To serve: Divide the diced mango into thirds. Distribute one of the thirds evenly among 4 small juice or parfait glasses. Use half of the chia pudding to top the first mango layer. Repeat the layers, ending with mango on top. Serve chilled.
Parchment Packet Chicken & Mango Baked with Jalapeño and Sigona's Honey Ginger Balsamic
Parchment-packet baking infuses the chicken with the flavors in which its wrapped, creating a fantastic taste explosion. Clean up is easy, too, which might be the best part. You can substitute fish for the chicken; snapper or salmon would work well. Adapted from Martha Stewart. Serves 4.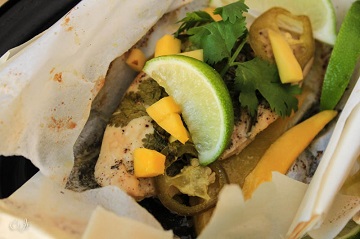 Ingredients:
1 Kent mango, peeled, pitted, and cut into 1/4-inch wedges
8 chicken cutlets (about 1 3/4 lbs. total)
4 tsp. Sigona's Honey Ginger Balsamic, divided
1/3 cup fresh cilantro leaves
1 medium jalapeño, thinly sliced (shake the seeds out, or leave them in for more heat)
Salt and pepper, to taste
2 Tbsp plus 2 t Sigona's Fresh Press Persian Lime Olive Oil, divided
4 Lime wedges, for serving
4 (18-inches long) sheets of parchment paper
Directions: Preheat oven to 400°F.
Dice 4 of the mango wedges and set aside.
Place an equal amount of the remaining mango wedges in the center of each of the four parchment sheets, running lengthwise. Top each with 2 chicken cutlets, some jalapeño and cilantro; season with salt and pepper. Drizzle on top of each 2 teaspoons olive oil and 1 teaspoon balsamic.
Bring the long sides of the parchment together and fold down three times, creating a seam. Fold the ends a couple times in and tuck them under, creating neat packets.
Place the packets on a rimmed baking sheet and bake for 18 to 20 minutes, or until chicken is cooked through.
To serve: Place the packets on dinner plates, slice open along the seam with scissors. Top each with a little diced mango and a lime wedge