Robbie Sigona's Produce Tips: Pears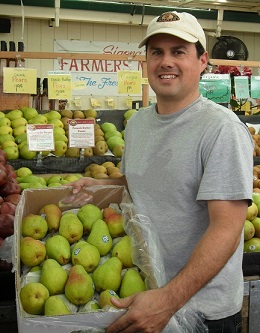 One of my favorite fall treats is the pear.

We've been buying pears from Meyer orchards for many years. They are a 3rd generation family well- known for growing the best tasting pears.
I'm buying Bartlett's for my 16-year-old Son, Alexii, who isn't a big fan of other fruits, but these Bartletts–he absolutely loves! 

Here's some tips for your picking and storing:
Much like avocados or bananas, pears ripen best off the tree. A pear is ripe when it is just soft to the touch and yields slightly to gentle pressure; it should also be aromatic.
When purchasing a pear, select a firm, smooth specimen with no bruising.
Store pears loose at room temperature; popping pears in a brown bag may hasten ripening, but keep an eye on them so they don't get overripe.
Once fully ripe, consume quickly.
A ripe pear will keep for a few days in the refrigerator.
Check out our other pear profiles for more specific information.
Robbie Sigona is our produce buyer. He works with local farmers and scours the market for the very best in fresh fruits and vegetables – some of you won't find anywhere else.