In the Kitchen with Sigona's Featuring: Fresh & Local Corn
Smoky Corn & Zucchini Pancakes with Anaheim Peppers and White Cheddar Cheese
These savory pancakes, with a smoky-flavored twist, are perfect for any meal or even as an appetizer with chilled white wine. Serve with eggs, sunny-side up, or with a couple dollops of sour cream. Inspired by Fine Cooking. Serves 4 to 8.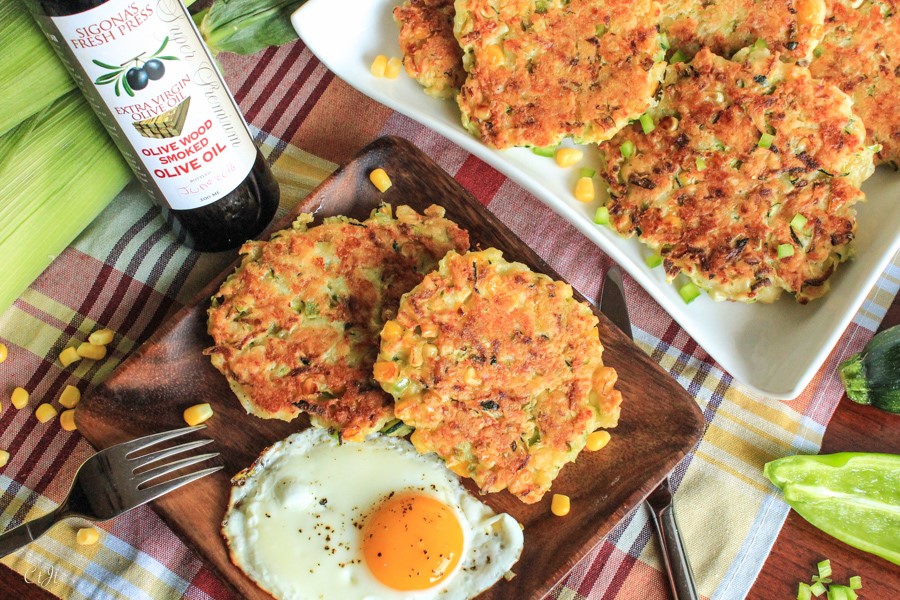 Ingredients:
1 medium-large zucchini
1 1/2 cup all-purpose flour
1 tsp. baking powder
Kosher salt and freshly ground black pepper, to taste
2 ears of local corn, sliced from the cob
1 large Anaheim pepper, seeded and minced (totaling about 1/2 cup)
1 1/2 cups grated (about 4 oz.) Sigona's Moo-Net White Cheddar
1 large egg
At least 6 Tbsp. Sigona's Olive Wood Smoked Olive Oil, for frying
Optional: Fried eggs, for serving
Directions: Working over a clean kitchen towel, grate the zucchini. Wrap the zucchini in the towel, then twist and squeeze, reserving the liquid in a small bowl. Squeeze out as much liquid as possible and set aside both the liquid and the zucchini.
Set aside a tablespoon or two of the minced Anaheim pepper to use as garnish. Set the oven to warm.
In a large bowl, mix together the flour, baking powder, salt and pepper. Add in the zucchini, corn, remaining minced Anaheim pepper and Moo-Net white cheddar. Toss with your hands to incorporate well.
Beat the egg with enough of the reserved zucchini liquid to yield 2/3 cup; add water if necessary to make 2/3 cup. Pour the egg mixture into the flour mixture and stir to incorporate until it becomes a thick batter.
Add 2 tablespoons olive oil to a large skillet over medium-low heat. Working in batches of 3 or 4 at a time, scoop out 1/3-cup portions of the batter and pat them down into 1/2-inch thick patties (should yield at least 8 patties). Cook on one side for about 5 minutes until golden brown; flip and cook an additional 4 to 5 minutes until golden brown and cooked through. Set cooked patties on a plate or pan in the warm oven. Add more oil to the skillet if necessary before cooking a new batch of patties.
Transfer cooked patties to a platter, sprinkle with reserved minced Anaheim peppers for garnish and serve immediately. Patties are delicious with a dollop of sour cream or an egg, sunny-side up.
Grilled Corn Salad with Avocado and Cilantro-Lime Dressing
This salad is fresh, crisp and flavorful, not to mention simple, healthy and delicious. It's fantastic as a side salad, a topper for fish tacos, shrimp quesadillas or even over greens. Introduce another layer of flavor by choosing from one of our infused oils. Make it dairy-free by leaving off the cheese. Serves 4.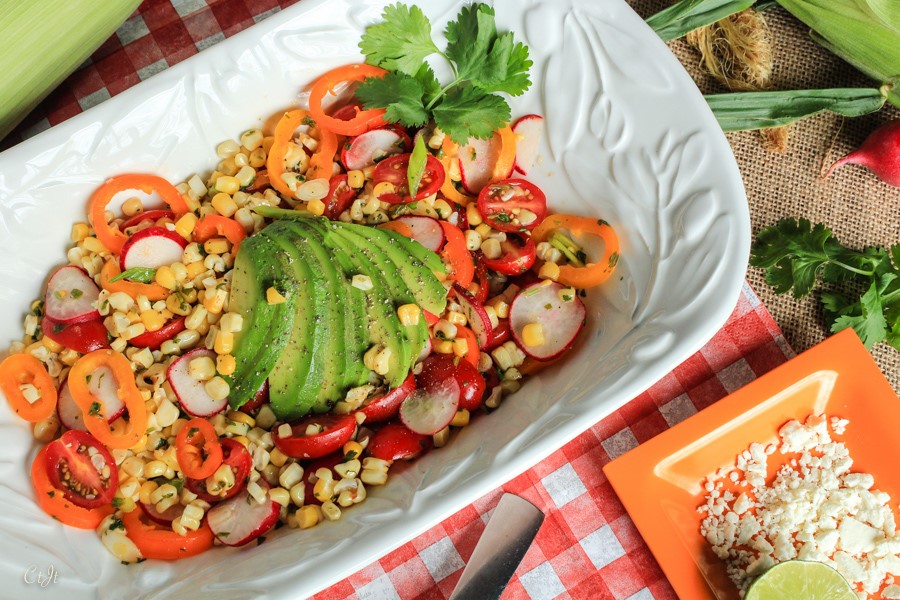 Ingredients:
3 ears of local corn
3 Tbsp., divided, Sigona's Smoky Chipotle Olive Oil or Sigona's Cayenne Chili Oil or a seasonal plain Sigona's Fresh Press Extra Virgin Olive Oil (We have many oils, plain and infused, from which to choose!)
1/4 cup chopped cilantro
2 Tbsp. fresh lime juice
1/4 tsp. Kosher salt
A pinch or two freshly ground black pepper
2 or 3 mini sweet peppers, sliced into rings, seeds removed
2 green onions, sliced on the bias
1 cup halved grape or cherry tomatoes
4 radishes, thinly sliced
Half a large avocado, peeled and sliced
Optional: Cotija or feta cheese, for sprinkling
Directions: Heat an outdoor grill or indoor grill pan over medium-high heat. Rub the ears of corn with 1 1/2 tablespoons of olive oil, then place on the grill to cook. Rotate the ears about every 2 to 3 minutes until all sides are cooked with nice grill marks. Set aside and allow to cool to the touch.
In a large bowl whisk together the cilantro, lime juice, salt and pepper. While whisking, drizzle in  remaining 1 1/2 tablespoons olive oil until emulsified. To the bowl, add the peppers, green onions, tomatoes and radishes. Slice the kernels of corn off the ears and add to the bowl. Use a large spoon to fold everything together until well coated in the dressing. Transfer to a serving dish.
Top the salad with sliced avocado and add cheese, if using.