In the Kitchen with Sigona's Featuring: Fresh & Local Corn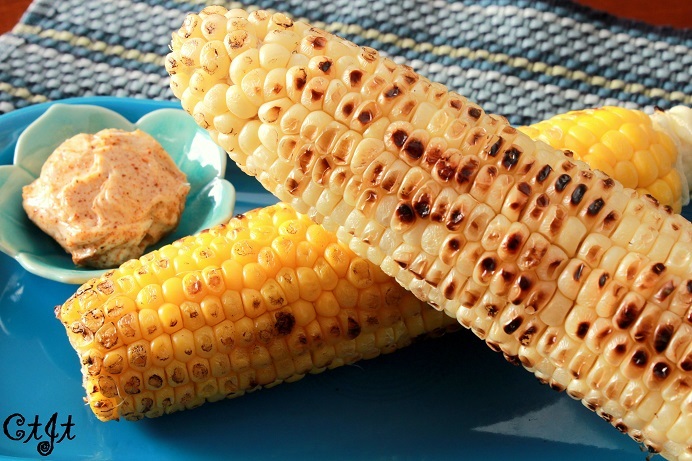 Pools, sunscreen, watermelon, barbecues, Gizdich pies, corn on the cob…all of these just scream summer! We're lucky to live here on the Peninsula, where most of the foods we associate with summer are just being harvested and delivered – sometimes in the same day – just in time for your family BBQ.
One of my favorites is fresh-picked corn. How can you say no to a steaming ear of corn with melted butter and dashes of salt and pepper? How about a fresh corn salsa to pile on top of a perfectly grilled and seasoned flank steak? Grill it, boil it, braise it, cream it, slice it off the cob…there are endless ways to enjoy fresh corn!
It's best to eat corn the same day it's picked – that's when it's sweetest! Just as with asparagus, the sugars in corn begin to convert to starch once it's harvested, so the sooner you eat it, the sweeter and more tender it'll be.
In general, white corn is more tender and sweet than yellow corn, which has a more chewy texture and hardy corn flavor. My Uncle Carmelo remembers when white corn was a rare find in markets; it wasn't until the 1970s that the demand for white corn grew and farmers began planting more white than yellow. Until that time, yellow corn was the norm – Golden Bantam was popular in the 1950s and Golden Jubilee was the rage in the late 1960s.
Corn is a good source of many nutrients. As anyone who remembers their elementary history class knows, corn (better known then as maize) was one of the main staples of civilization in early America. It's among the oldest and most versatile foods and it's used for everything from summer BBQ fare to tortillas, chips, cereals and corn meal.
Corn is a good source of protein, potassium, fiber and good carbohydrates. It's also a good source of vitamin C and B vitamins, such as Riboflavin, a B 2 that is important to energy metabolism (processing nutrients like carbohydrates to a form of energy that the body can use). A medium size ear of corn has about 80 calories and 1 gram of fat.
Scroll down to find a few of our favorite serving suggestions for corn. Our favorite, of course, is still simply boiled or grilled and slathered with butter and salt. Yum!
Esquites ~ Mexican Street Corn Salad
If you love elotes – and really, who doesn't – then you'll love this salad. We use our smoky chipotle oil to add another layer of flavor and a little heat to the dish, too. This is a great side for Taco Tuesday!
CLICK HERE for the recipe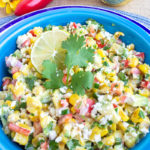 Sumer Risotto with White Corn, Tomatoes and Garlic Oil
Corn and tomatoes are almost a required combination in summer. The two together can make salsas, salads, soups, risottos and more. Add in a little basil and cheese to the mix and you have a flavor combination made in heaven! This risotto is hearty yet bursting with fresh ingredients.
CLICK HERE for the recipe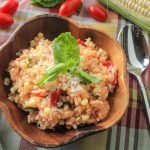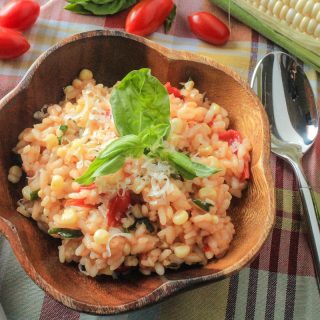 Grilled or Boiled Corn on the Cob with Seasoned Butter
For an impressive presentation: Peel back the husk – don't remove it – to remove the silk. Pull the peeled husk down to the bottom, creating a handle. Take one of the outer husk leaves off and trim it to a thin strip. Use the strip to tie the peeled back husks together with a bow. Below are cooking suggestions and a few fancy butter spreads that add fantastic flavor to corn on the cob. Each ingredient combination is enough for about 4 ears of corn.
CLICK HERE for the recipe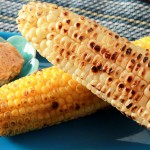 Summer Sweet Corn, Tomato and Avocado Salad with a Garlic, Lime & Jalapeño Vinaigrette
Summer in a salad! This is fresh, flavorful and perfect with fish or on its own. There is a nice heat from the jalapeños, and you can add more if you wish.
CLICK HERE for the recipe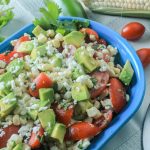 Grilled Corn Salad with Avocado and Cilantro-Lime Dressing
This salad is fresh, crisp and flavorful, not to mention simple, healthy and delicious. It's fantastic as a side salad, a topper for fish tacos, shrimp quesadillas or even over greens. Introduce another layer of flavor by choosing from one of our infused oils. Make it dairy-free by leaving off the cheese. Serves 4.
CLICK HERE for the recipe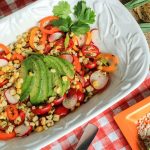 Smoky Corn & Zucchini Pancakes with Anaheim Peppers and White Cheddar Cheese
These savory pancakes, with a smoky-flavored twist, are perfect for any meal or even as an appetizer with chilled white wine. Serve with eggs, sunny-side up, or with a couple dollops of sour cream. Inspired by Fine Cooking. Serves 4 to 8.
CLICK HERE for the recipe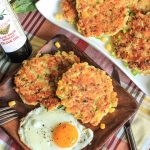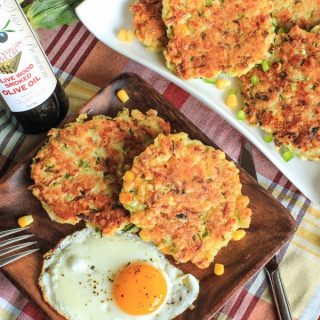 Corn Chowder with Hatch Chiles, Bacon and Cilantro & Roasted Onion Infused Olive Oil
This is a hearty, dairy-free chowder that's great any time of the year. Including the cobs infuses even more corn flavor into the chowder. The drizzle of our roasted onion & cilantro infused olive oil adds a nice savory flavor to the dish. Serves about 4.
CLICK HERE for the recipe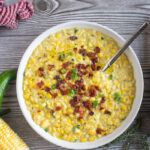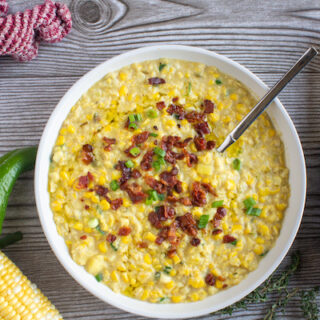 ---