It's no secret that the very best apricots in the world are grown locally in the Santa Clara and San Benito counties, and the very best type is an heirloom variety called the Blenheim. Our heirloom Blenheim dried apricots are great for eating out of hand, for apricot pie, in trail mixes and for homemade granola bars. You can learn more about the Blenheim variety on our blog and then try some of these recipes!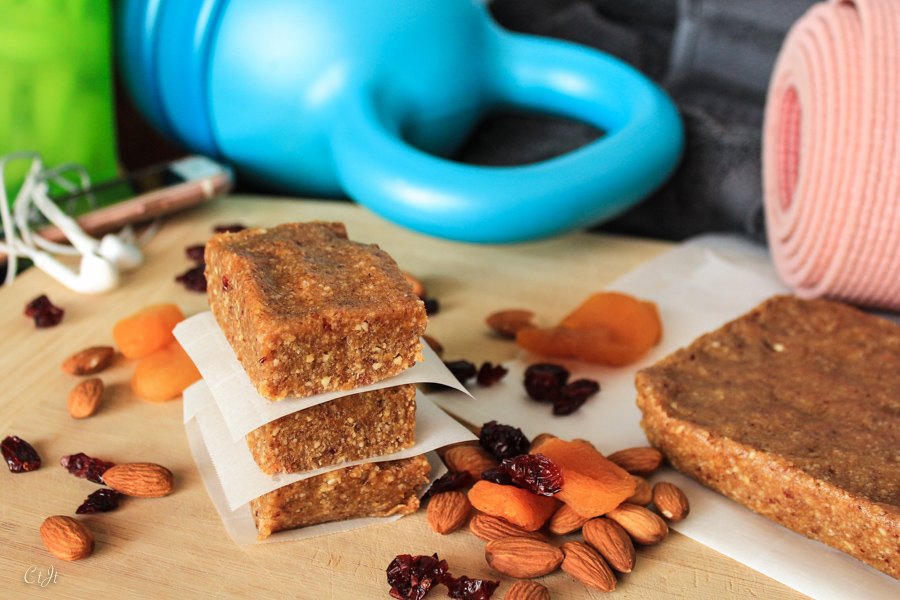 Apricot, Almond & Medjool Date Medjool Date Raw Energy Bars
These are easy to make and handy to have around for an after-school snack or a pre- or post-workout fueling. We love the sweet-tart combination of cranberries and apricots in our bars, but you can be adventurous and add in or substitute other dried fruits as you wish. These will keep in the fridge for a week. Inspired by Barre3. Makes about 12 to 16 servings.
Ingredients:
1 cup raw cashews
1 cup almonds
2 cups roughly chopped Medjool dates, pitted
1/2 cup roughly chopped dried heirloom Blenheim apricots
1/2 cup **shredded unsweetened coconut
2 Tbsp dried cranberries
1 Tbsp coconut oil (room temperature) or Sigona's Extra Virgin Olive Oil
1 tsp. maple syrup or pure vanilla extract
A pinch of Kosher salt
**If you purchase the coconut chips at Sigona's, pulse them with the almonds and cashews to get a finer shred before pulsing with the remaining ingredients.
Directions: Add the cashews and almonds to the bowl of a food processor and pulse until the nuts are coarsely and uniformly chopped. Add the chopped dates, apricots, coconut and cranberries; pulse a few times to mix the ingredients, then add the oil, syrup or extract and salt.
Switch the food processor to the on position and allow the mixture to blend until all ingredients are well incorporated and have become a thick, sticky ball (this may take a couple minutes).
Line a 8×8 baking dish with parchment paper. Press the mixture into the pan, flattening out the top with your fingers. Refrigerate at least 1 hour before removing from the pan and slicing into 12+ bars.
---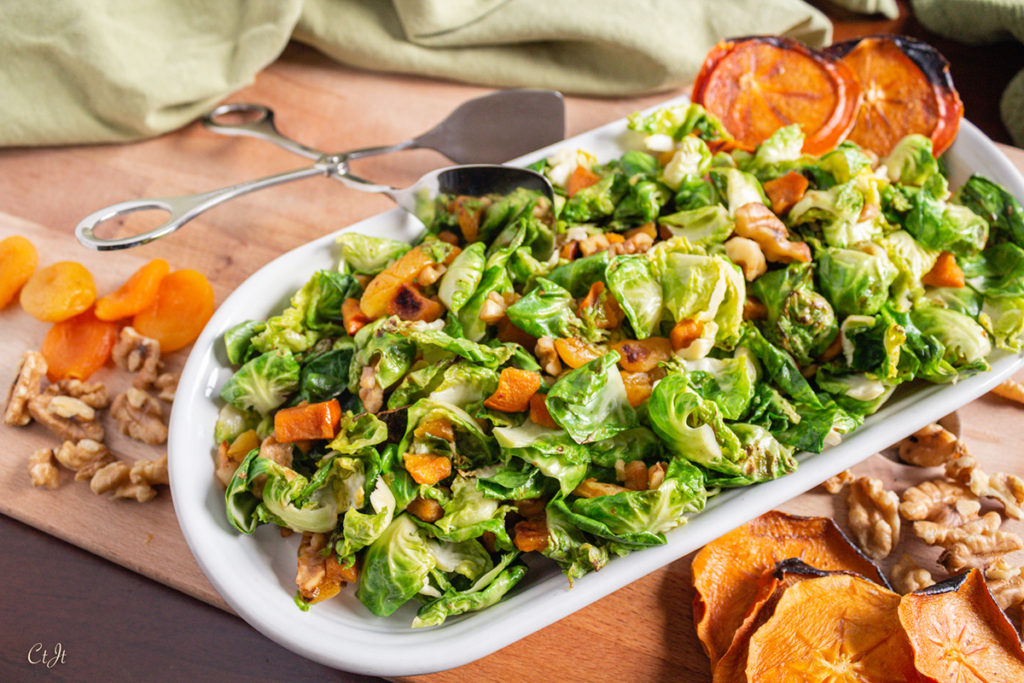 Sautéed Brussels Sprout Leaves with Persimmons, Heirloom Apricots and Walnuts
This quick sauté comes together in just minutes. It's a delicious vegan and vegetarian friendly dish that would be lovely for Thanksgiving. It's packed with delicious flavor and nutrients. Adapted from a recipe by Stephanie Stiavetti Fearless Fresh. Stephanie grew up in Redwood City and remembers shopping at Sigona's. Serves about 4.
Ingredients:
2 oz. dried heirloom Blenheim apricots, about 1/4 cup
1 1/2 oz. dried heirloom hachiya persimmons, about 4 slices
Boiling water
8 oz. Brussels sprouts leaves, rinsed and spun dry
1/4 cup coarsely chopped walnuts
1 Tbsp Sigona's Fresh Press Extra Virgin Olive Oil
1/2 tsp salt, or to taste
1/2 tsp freshly ground black pepper, or to taste
Directions: Place the apricots and persimmons in a bowl and cover with boiling water. Allow to sit for 5 minutes to reconstitute. Drain and dice. Set aside.
Heat a large sauté pan over medium heat. Add the walnuts and toast for about 3 minutes, shaking pan occasionally. Transfer to a bowl and set aside. Wipe out pan with a kitchen or paper towel.
Add the olive oil to the same pan over medium heat. Add the Brussels sprout leaves, salt, pepper, apricots and persimmons. Sauté, stirring almost constantly, for about 5 minutes then add the walnuts and cook for another minute or until heated through. Taste and adjust seasoning if needed. Transfer to a serving dish and serve immediately.
---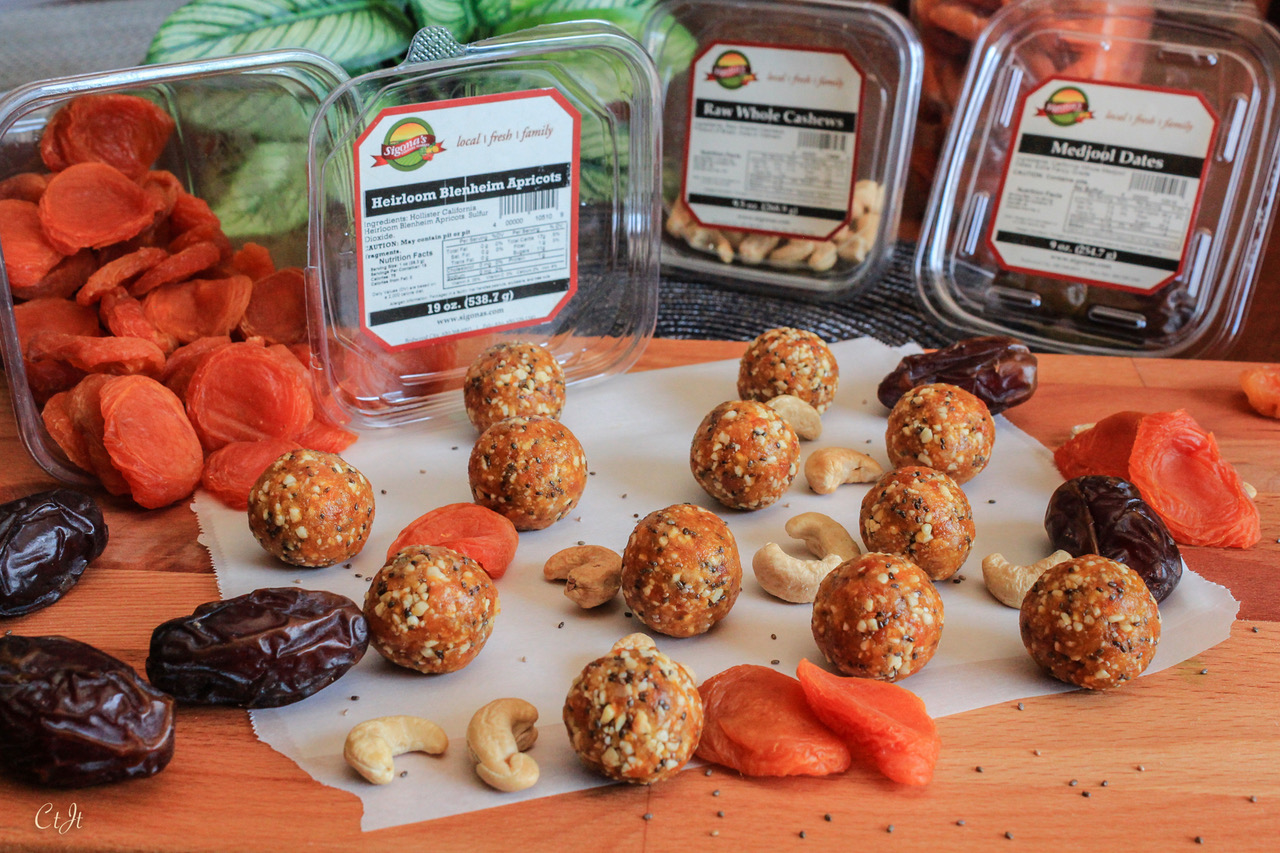 Heirloom Blenheim Apricot Energy Bites with Cashews and Chia Seeds
(Vegan || Gluten-Free || Paleo)
The heirloom Blenheims and dates are naturally sweet enough that no added sugar is needed to give these a sweet, yet pleasantly tart, taste. They're also gluten-free, vegan and paleo-friendly! They're great to keep in the fridge to pop into a lunch box or for a quick pick-me-up. Makes about 2 dozen bites.
Ingredients:
Directions: Place all ingredients in the bowl of a food processor. Pulses then process until the ingredients are all about the same size, like a course crumb. You may need to stop and use a spoon to rearrange some of the mixture from time to time.
Portion out tablespoon-sized scoops and roll into balls. Place the bites on a baking sheet as you work to roll all the mixture.
Store in an air-tight container in the fridge for up to 1 week.
---
Apricot-and-Cheese Stuffed Chicken
You can use a variety of cheeses in this dish, but we really love the Fontina or Provolone. They add flavor and mouthfeel. Our dried Blenheim apricots are perfect for this recipe, adding a lovely and bright color and flavor. Adapted from Rachael Ray. Serves 4.
Ingredients:
4 chicken breast halves
Salt and pepper, to taste
4 slices of provolone or Fontina
6 to 8 dried Blenheim apricots
3/4 cup all-purpose flour
3 Tbsp Sigona's Rosemary Olive Oil
1 cup dry white wine or chicken broth
Juice of 1 lemon
3 Tbsp butter
Directions: Preheat the oven to 350°F. Slice the chicken breast horizontally, as if to butterfly each piece, but not cutting all the way through. Lay each flat on a work surface. Cover with a piece of plastic wrap and use a meat mallet to pound the breasts 1/2 inch thick.
Season the chicken with salt and pepper, to taste. Place a slice of cheese on each breast, then top with 3 or 4 apricot halves. Close up the chicken pieces and cover again with a sheet of plastic. Lightly pound the edges together on each piece as to seal together.
Spread out the flour on a plate. One at a time, place the chicken on top of the flour and gently pat; flip once to coat the other side.
Heat the olive oil over high heat in a nonstick skillet. Add the chicken breasts and cook, turning once, until golden, about 2 to 3 minutes a side. Transfer to a rimmed baking sheet, leaving cooking juices in the skillet.
To the same skillet, add the wine and lemon juice; cook, scraping up any bits, over medium-high heat for 2 minutes. Add the butter and stir until melted.
Pour the sauce over the chicken, cover with foil and bake for 10 minutes; uncover and bake another 10 minutes or until cooked through.
Serve immediately and any remaining pan juices drizzled over the top.
---
Build Your Own Cheese Board with Fresh Figs, Cheeses, Chutney, and Cured Meats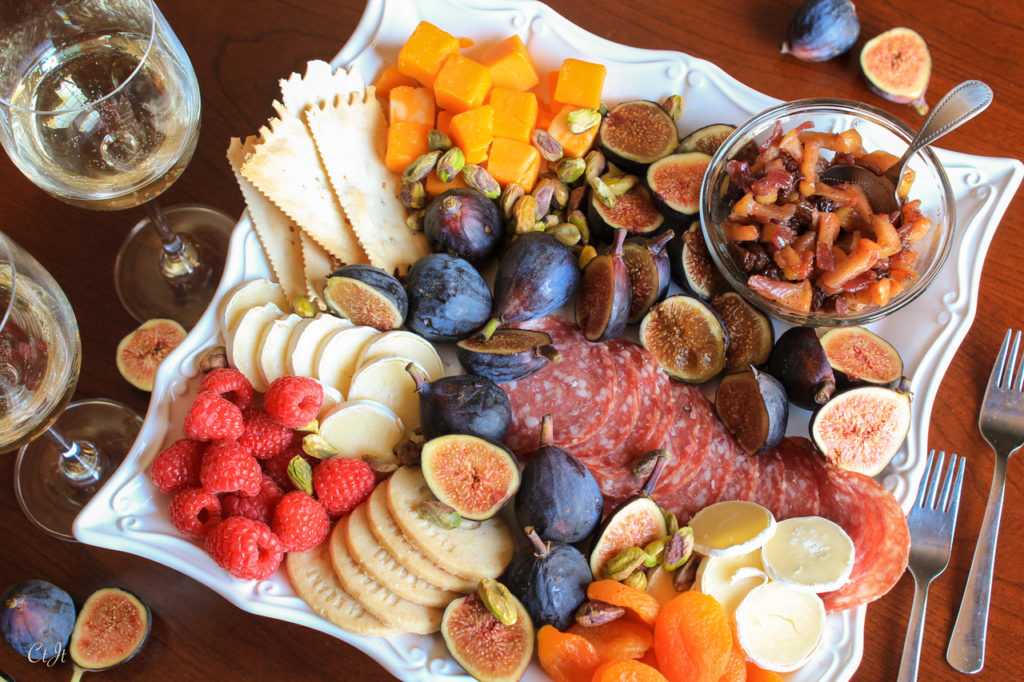 The beauty of a cheeseboard or charcuterie platter is that you can add or take away any ingredients you want, however it suits your palate or the season. Fresh figs are a delicious indulgence as summer comes to an end, so eat up while you can!
Suggestions:
Fresh black mission figs, halved and whole
Brie, sliced
A savory chutney or quince paste
Cubed or sliced hard and soft cheeses, such as Gouda, Brie, Cheddars, Blues, goat cheese, Swiss, or Gruyere
Cured meats such as salami and prosciutto
Dried fruits, such as Blenheim apricots, cranberries, apple rings
Nuts, such as pistachios, pecans (flavored or plain), almonds (flavored or plain)
Fresh fruits, such as grapes, apples, berries
Crackers, plain or seasoned, such as Rustic Bakery Artisan Crisps or Flatbreads, Carr's Crackers, Bruschettini, or Crunchmaster Multi-Seed crackers.
Sweet or savory tea biscuits, such as Elegant & English Artisan Biscuits
Olives or other marinated options from Sigona's Olive Bar
Directions: Arrange the ingredients on a platter in an appealing way, positioning similar items across from each other instead of directly next to each other. Enjoy!