October 2022 Balsamic and Olive Oil Sale Recipes
We're excited to offer these olive oils and balsamics on sale in the month of October: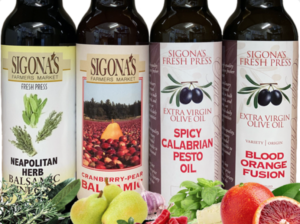 Neapolitan herb balsamic
Cranberry-Pear balsamic
Spicy Calabrian pesto olive oil
Blood orange fusion olive oil*
*When an oil is a fusion that means the olives were crushed together with the fruit or herbs, making a beautiful fusion of the two flavors.
Following are a few recipes we suggest for these oils and balsamics. We have a few more suggestions listed as well.
Sale valid online from Oct. 1 – 31, 2022.
Sale valid in our markets from Oct. 6 – 31, 2022.
Serving suggestions:
Grilled Portobello Mushrooms Marinaded in Neapolitan Balsamic and Sage & Wild Mushroom Olive Oil
The balsamic and the olive oil are packed with awesomely herbaceous flavor, so this marinade requires just a few ingredients. Use them to build a burger or eat them as you would a steak. Marinates 2 portobello mushrooms.
Check out this recipe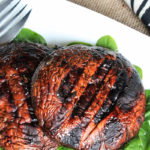 See also:
Recipe Roundup: Sigona's Neapolitan Herb Balsamic
Grilled Pear & Blue Cheese Crostini with Bacon and Sigona's Cranberry-Pear Vinaigrette
Cranberry and pear are two great flavors of fall, and both pair beautifully with blue cheese. We've adapted this recipe from Food & Travel Magazine to give you a unique way to enjoy some of our favorites of the season. Enjoy with a chilled Rosé or Riesling. Serves 4.
Check out this recipe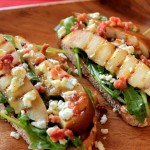 See also:
Recipe Roundup: Sigona's Cranberry-Pear Balsamic
Stuffed Baked Salmon with Sun Dried Tomatoes, Feta and Spicy Calabrian Pesto Olive Oil
Savory and delicious, this dish is good for a dinner party or a night in with the family. The Spicy Calabrian Pesto Olive Oil lends just a touch of heat with the herbaceous flavor of basil. Recipe and photo courtesy of Veronica Foods. Serves 4.
Check out this recipe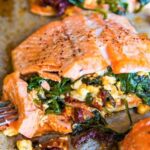 See also:
Recipe Roundup: Sigona's Spicy Calabrian Pesto Oil
Blood Orange Roasted Beets with Crumbled Cheese and Hazelnuts, Drizzled with a Tangerine Balsamic Reduction
This is a bright and beautiful dish to serve during the dreary winter months. The beets soak up the flavor of the blood orange oil as they roast, adding to their natural sweetness, and the tangerine balsamic reduction lends another layer of syrupy sweetness balanced with a mild tanginess. Beets pair deliciously with blue or goat cheese, but if you're dairy-free, you can leave the cheese off entirely. Serves 4 to 6.
Check out this recipe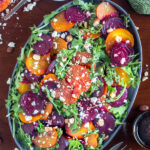 See also: