Local | Fresh | Family
Vanilla Bean Balsamic-Roasted Strawberries with Pistachios and Honeyed Mascarpone Roasted strawberries soften a little as their natural sugars caramelize, creating a flavor that is matched...

Summer Caprese Simple and delicious. You can't beat a traditional caprese. If you want to add more layers of flavor, experiment with our infused balsamics...

Seared Scallops with a Lemony Chimichurri The lemony notes from the actual lemon (peel and all), as well as our Sicilian lemon balsamic, give this...

Roasted, Balsamic-Glazed Bosc Pears with Rosemary and Burrata When fruit cooks, its natural sugars become caramelized, creating a rich, almost brown-sugar like flavor. The delicate...

Sigona's Truffle Button Brie Crostini with Rosemary-Sautéed Mushrooms The ingredients are simple, but the flavor is outstanding! Freshly toasted slices of baguette are topped with...

Rose Raspberry Meringue Parfaits A healthy dessert perfect for brunch! Recipe created by Azarmeen Pavri, founder of  Délice Glacé. Délice Glacé is a local artisanal bakery located...

Simple Grilled Local Wild King Salmon There are many ways to enjoy local, wild King Salmon, but this is one of our favorites because it's...

Shakshuka with Sigona's Marinara and Organic Eggs This is a dish popular across the Middle East and North Africa. It's traditionally a combination of tomatoes,...

Fig-Balsamic Roasted Cauliflower with Black Mission Figs It is not uncommon to see cauliflower paired with golden raisins, especially served as a side dish in...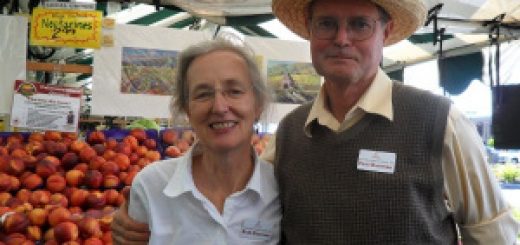 No Place Like Sweet Home Sweet Home Ranch in Dinuba, Calif., provides us with certified California Clean stone fruits that burst with sweet, tree-ripened flavors...