Local | Fresh | Family
Heirloom Tomato & Pimento Cheese Topped Crostini Savory, summery and finishing with a slight, sweet-pepper kick, these simple crostini are perfect for a backyard get...

This dish is traditionally made with pasta, but we used zucchini noodles to introduce a healthier element. Translated, cacio e pepe means cheese and pepper;...

Watermelon Agua Fresca Agua Fresca is a light, refreshing fruit juice which originated in Mexico. This thirst-quencher is made by simply blending fruit with water...

Broiled Stone Fruit with Blenheim Apricot White Balsamic and Thyme over Vanilla Gelato with a Crumbled Cookie Topping While stone fruits are perfect raw and...

Smoky Corn & Zucchini Pancakes with Anaheim Peppers and White Cheddar Cheese These savory pancakes, with a smoky-flavored twist, are perfect for any meal or...

Grilled Nectarines with Burrata, Basil and Prosciutto Grilling fruit caramelizes its natural sugars, giving the fruit a warm depth of flavor. In this case, grilling...

Vanilla Bean Balsamic-Roasted Strawberries with Pistachios and Honeyed Mascarpone Roasted strawberries soften a little as their natural sugars caramelize, creating a flavor that is matched...

Summer Caprese Simple and delicious. You can't beat a traditional caprese. If you want to add more layers of flavor, experiment with our infused balsamics...

Seared Scallops with a Lemony Chimichurri The lemony notes from the actual lemon (peel and all), as well as our Sicilian lemon balsamic, give this...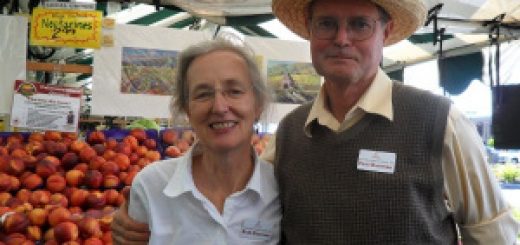 No Place Like Sweet Home Sweet Home Ranch in Dinuba, Calif., provides us with certified California Clean stone fruits that burst with sweet, tree-ripened flavors...